Site Map >
---
Martin Snape - World famous Gosport Artist
---
Martin Snape 1853-1930
Born in Spring Garden Lane in Gosport in 1852, he was a prolific and accomplished topographical artist, exhibiting at the Royal Academy between 1874 and 1901. His oil painting of Forton Creek which was exhibited at the Academy in 1890 is currently hung in Gosport's Town Hall. He frequently painted scenes in and around his home town of Gosport, also of Portsmouth Harbour and South Hampshire. He was also widely travelled. His house was next door to Gosport Railway Station, and He made frequent trips into the Meon Valley to paint. His paintings of mountain landscapes and other non local views show that he also journeyed further afield. In 1922, he was commissioned to design the seal for the newly created Borough of Gosport. His work was also used to illustrate books and for postcards.
Martin Snape died in 1930. Both his father and his brother were artists, however it is Martin that is best remembered.
---
---
---

Featured Hotel
Alverbank Country Hotel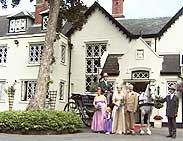 ● Without doubt one of Gosport's best hotels that successfully combines style and elegance with a very relaxed atmosphere.
---
---

Fun Facts
Art was Gauguin's third career. He was first a merchant marine and then a stockbroker. There is no evidence that Gauguin even held a paintbrush before the age of twenty-three. He didn't begin to paint full time until he was thirty-five.
Gauguin's decision to become an artist was influenced by a fellow stockbroker, Claude Emile Schuffenecker, a part-time artist whom Gauguin met at his job at a brokerage firm.
The Impressionist painters were at first reluctant to take Gauguin seriously and only considered him a Sunday painter. However, Edouard Manet encouraged him by saying, "There are not amateurs, there are only good or bad painters."

---