Site Map >
---
---
---
Our now empty Police Station in South Relief road. Once the Magistrates Court occupied the far end of the building, before moving to Fareham
---
---
The original Gosport Station in Upper South Street was destroyed by enemy action on the 27th February, 1941. Staff then moved to a temporary station at 20 Bury Road until 1957, when new station opened, back in South Street. The Magistrates Court hearings were held in the Nicholson Hall, Bury Road, during this period.
---
Gosport officers in the early 1900s

In 1887 the police station address was in Upper South Street.

The Superintendent was G. Catchlove
with Sergeants J. Gibson and E. Wyatt
and fourteen constables

Note: two officers are wearing a striped 'on duty' wrist band,
officers would travel to and from work in uniform, removing the band
would put them, 'off duty' in the eyes of the public.
---
I have abridged the above from the Hampshire Constabulary History Society
To access much more of the history of the Police force visit their website Home
Below is a list of useful information
---
Gosport Police Divisional Headquarters

South Cross Street,

Gosport,

PO12 1ES.

Enquiry office open: Daily 8am - midnight

Email:

gosport.police@hampshire.pnn.police.uk

or Telephone: 0845 045 45 45

Divisional Commander: Superintendent Peter Baldry
Deputy: Chief Inspector Terry Stevens
---
---
---

Featured Hotel
Alverbank Country Hotel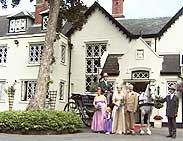 ● Without doubt one of Gosport's best hotels that successfully combines style and elegance with a very relaxed atmosphere.
---
---

Fun Facts
Police dogs donít really understand German or other languages. Itís a matter of training.
A human beings olfactory senses (sense of smell) spread one cell thick would cover the area of a hand; A dogís would cover his body like a saddle blanket.
Police dogs are aggressive on command.
Police dogs are normally retired to their handler and live out full lives after service.
Any breed of dog may be trained as a Police dog, but certain breeds are chosen because of stability of temperament.
A local Police dog has been trained to walk tight ropes six feet above the ground.
Local Police dogs are normally purchased with donations and not from tax dollars.
Your local Police K-9ís have fallen off cliffs, been run over by cars, been stabbed and even died in the line of duty because of their desire to perform their job well.
Police dogs are trained to find narcotic by using their ďplay drive.Ē They know when they find the dope, they get to play with their toy.
Police dogs make wonderful family pets.
---