Site Map >
---
Parks and Lakes around Gosport
Workhouse Lake
---
But first, a history lesson
---
| | | |
| --- | --- | --- |
| | | In 1799, Alverstoke, which included Gosport, was incorporated under Gilbert's Act of 1782 which allowed parishes to set up workhouses for the elderly, infirm and children. It was decided that the town's existing poorhouse on South Street should be replaced by a new "House of Industry" on land at the south side of Alver Creek (later known as Workhouse Lake). The ten acre site was on the Ewer Common lands administered by the Bishop of Winchester. In December 1799, advertisements were placed for plans and estimates for a poorhouse to accommodate 250 paupers. |
---
The successful bidder appears to have been Mr Francis Carter and the new workhouse was opened in 1801.
The design is one of the earliest examples of a building with a supervisory hub from which the Master could easily observe the inmates in every direction. An 1829 plan of the building shows the T-shaped main building surrounded by a number of separate blocks containing men's and women's infirmaries, lunatic cells and workshops. The inmates spun yarn for stockings, linen for aprons and gowns, and wool for coats and rugs. These products were transported by boat to a market at Portsmouth Harbour. One of the workhouse's former inmates, a ten year pauper called John Valentine Gray, was murdered by his employer, a chimney sweep called Benjamin Davies from Newport, Isle of Wight. The death of the tiny and undernourished boy is said to have inspired Charles Kingsley's 1863 book "The Water Babies".
---
---
---
The workhouse, which later became Alverstoke Public Assistance Institution, finally closed after the Second World War. It was occupied as an industrial unit until its demolition in 1989. The site has now been redeveloped for residential use. All that remains is the former gatehouse, now converted to a house.
---
---

Featured Hotel
Alverbank Country Hotel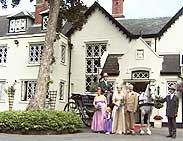 ● Without doubt one of Gosport's best hotels that successfully combines style and elegance with a very relaxed atmosphere.
---
---

Fun Facts
"J", the youngest letter in the English alphabet, was not added until the 1600s.

It takes around 200,000 frowns to create a permanent brow line.

The fastest-moving land snail is the common garden snail whose top speed is 55 yards per hour or 0.0313 mph.

The most common time to sight a UFO is 11pm.
---