Site Map >
---
Parks and Lakes around Gosport
Crescent Gardens
---
---
Crescent Garden at Alverstoke in Hampshire is a partnership encouraged by The Hampshire Gardens Trust between Gosport Borough Council and the Friends of the Crescent Garden, which also included youngsters from a nearby housing estate who call themselves "The Garden Guardians". The result was the recreation of a Regency Flower Garden to complement the finest surviving classical crescent in the County, on a previous low-maintenance area of "open space". There is a great deal of local participation in the garden and it is now a much cherished local tourist attraction.
---
---
---
---
---

Featured Hotel
Alverbank Country Hotel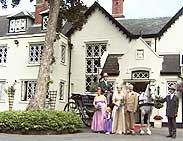 ● Without doubt one of Gosport's best hotels that successfully combines style and elegance with a very relaxed atmosphere.
---
---

Fun Facts
The lens of the eye continues to grow throughout a person's life.

The Atlantic Ocean is saltier than the Pacific Ocean.

The telephone area code for a cruise ship in the Atlantic Ocean is 871.

There are more stars in the universe, than grains of sand on all the beaches in the world.
---