Site Map >
---
Lee-on-the-Solent Postcards page 1
---
---
---
---
The swimming pool at Lee-on-the-Solent
In 1932 the open air heated seawater swimming pool was built in the cliffs to the west of the pier at Lee-on-the-Solent. Whilst under construction the previous year, the site of the pool was inundated by the sea ! Complete with diving boards and changing rooms, the pool was billed as 'Britain's first and only Open Air Heated Sea Bathing Pool'.
This picture was taken about 1935.
The pool ceased to be used in the 1970s and site of the old pool is now a children's play area.
---
---

Featured Hotel
Alverbank Country Hotel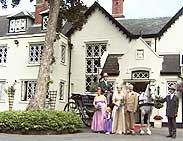 ● Without doubt one of Gosport's best hotels that successfully combines style and elegance with a very relaxed atmosphere.
---
---

Fun Facts
An electric eel's charge is so potent it can knock a horse unconscious from twenty feet away.

70% of house dust consists of human skin.

Artichokes are flowers.
---