Site Map >
---
---
| | | |
| --- | --- | --- |
| Since the mid 18th century Gosport has been home to a sizeable population of service personnel, mostly Naval, but the maritime association goes back into the mists of time. In the 15th century there was a tower guarding the western side of the mouth of Portsmouth Harbour, and Hasleworth Castle near Fort Monkton was built about the same to defend the western approaches. In the 17th century, Charles II issued an order to enclose the town of Gosport within earthen ramparts, and in the 18th century the 'Gosport Lines' built by De Gomme extended the defences north to include Weevil and Priddy's Hard. | | |
---
During the mid 19th century there was a constant fear of invasion by the French. A ring of forts was planned to surround and protect the harbour.
In Gosport, the 'western defences' were a line of forts from No2 battery on Stokes bay to include Gomer, Grange, Rowner, Brockhurst and Elson.
At the start of World War I the flat green fields on the western edges of Gosport became military airfields. The Grange Airfield (now HMS Sultan) became the home to the Royal Flying Corps in 1914 and the base for the Special School of Flying. The 1st planes flew from Grange in the 1950s.
---
Originally a modest fishing village, Gosport became the home of the Royal Submariners based at H.M.S Dolphin, and submariners from around the world came to train in the escape tank built within the grounds. There is still a great tradition of Naval establishments such as H.M.S.Sultan, the Royal Navy Engineering school, H.M.S. Collingwood, school of theory and application of weapons and H.M.S.Centurion. The former Forton Barracks was, in 1927 renamed St. Vincent training school for young sailors, and in the next 40 years saw thousands of young men pass through their gates. It is now the home of the St. Vincent 6th form college.
The Royal Naval Submarine Museum has a huge collection of memorabilia on display, reflecting the past Marine input of Gosport along with Explosion, the Armaments display exhibition at Hardway, but the tradition continues through our modern marinas, Haslar and Camper and Nicholsons. "Campers", as it is affectionately known, is the world famous yacht building company established in 1782 , where Sir Tommy Sopwith's legendary Americas Cup boats, as well as Sir Francis Chichester's "Gypsy Moth" vessels were conceived and built.

The Naval Training school was established at Lee-on-the-Solent at what is now the site of HMS Daedelus, where flying continues today with the helicopters of the Search and Rescue service.
(Information courtesy of Gosport Museum)
---
---
---

Featured Hotel
Alverbank Country Hotel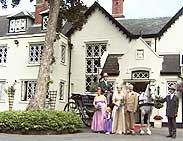 ● Without doubt one of Gosport's best hotels that successfully combines style and elegance with a very relaxed atmosphere.
---
---

Fun Facts
The name Gosport is said to have come either from God's Port or Gorse Port.
Gosport USA is in Indiana as well as New Hampshire
Gosport's Model Sailing Yacht Lake is one of only 2 in the UK for International events.
---