Site Map >
---
Places of interest in and around Gosport
Stokes Bay
---
---
Part of the longest continuous shingle beach in England, which stretches from Lee on the Solent to the Harbour Entrance. Stokes Bay Sailing Club is on the left of the picture and the centrepiece is Saint Mary Alverstoke, for centuries a focal point of Gosport.
---
---
Haslar Hospital sits back from the end of the beach, just before Fort Blockhouse at the Harbour mouth.
---
---
Browndown and Gilkicker are both exceptional examples of wild grounds, with a diversity of wildlife
---
---
The view towards Stokes Bay and Lee on the Solent from Fort Gilkicker is worth the short climb
---
---
Due to the open aspect of the Solent, prevailing winds shape the contours of the trees
---
---
From the top of Fort Gilkicker looking towards the harbour over part of the Stokes Bay Golf Club.
This area of Gilkicker has been designated a SSSI status.
---
Browndown and Stokes Bay are still regularly used by the Army, and are favourite dog walks!
---
---
---

Featured Hotel
Alverbank Country Hotel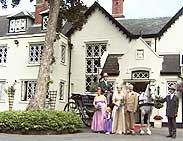 ● Without doubt one of Gosport's best hotels that successfully combines style and elegance with a very relaxed atmosphere.
---
---

Fun Facts
Because the eyes work harder when viewing objects up close, particularly on a computer monitor, it is the proximity of the VDT screen to the eyes that causes eyestrain, not "radiation" emitted from the screen.

Albert Einstein didn't talk until he was four years old.

"I am" is the shortest complete sentence in the English language.

Most precious gems are actually colourless. Their colour comes from impurities in the stone than act as pigmenting agents.
---