Site Map >
---
Places of interest in and around Gosport
The Solent
---
Solent, The[sO´lunt] , channel, c.30 mi (50 km) long and 3/4 to 5 mi (1.2–8 km) wide, between the Isle of Wight and Hampshire, S England. It serves as an anchorage for ships entering Southampton Water. Yacht races are held there.
Stark words to introduce one of the most romantic stretches of water around England. From the sinking of the Mary Rose, to the launching of the Princess Flying boat, and the home of the most famous ocean going liners in the world. This unique playground of Royalty has seen it all.
---
---
Queen Victoria used to arrive at Stokes Bay, after a train journey from London, to be ferried across the Solent to her home on the Isle of Wight, and Prince Albert was taken by boat the other way to the Alverbank Hotel, where he enjoyed the hospitality of .
The Queen and her family were familiar visitors, and most of the Royal family learnt to sail under Uffa Fox, an internationally renowned yachtsman from the Isle of Wight
---
| | | |
| --- | --- | --- |
| The Royal connection goes back almost as far as the Monarchy itself, but the most famous event happened in 1545, When King Henry VIII watched her sink from Southsea Castle. Built between 1509 and 1511, she was one of the first ships able to fire a broadside, and was a firm favourite of the King. The connection was revived in 1982, when Prince Charles formed part of the recovery team that eventually raised the Mary Rose from the sea bed and housed in the Portsmouth Dockyard. | | |
---
There are fifteen harbours along the length of the Solent:
Beaulieu River Bembridge Chichester Cowes Gosport Hamble Island Harbour Langstone
Littlehampton Lymington Newport Poole Southampton Weymouth Yarmouth
---
---
Solent Hovertravel operates the only remaining hovercraft service in the UK, operating between Southsea on the mainland to Ryde on the Isle of Wight. In the foreground is Southsea Fun Fair. Portsmouth's War Memorial dominates the skyline, and the Sea Life Centre is to the right.
---
---
The Round Tower ,where Henry VIII watched the Mary Rose sink, and Fort Blockhouse on the Gosport side of the harbour, mark the end of the Solent's boundary. The harbour stretches past Portchester to end at Fareham.
---
---
1346
1415
1662
1693

1700
1773
1778
1781
1794

1814
1820
1842
1844
1844
1845
1853
1854
1856
1865
1867
1873
1878
1887
1889
1891
1896
1897
1899
1902
1905
1907
1909
1911
1912
1914
1924
1935
1937
1944
1953
1969
1977
1977
1977
1977
1977
June
May
February
March

June
May
June
June
September

March
May
October
June
August
March
April
August
July
June
August
July
August
August
August
June
August
August
August
August
July
June
July
July
July
July
May
May
June
May
June
King Edward III
King Henry V
King Charles II
King William III & Queen Mary II
King William Ill
King George Ill
King George Ill
King George Ill
King George Ill & Queen Charlotte
Prince Regent
King George IV
Queen Victoria
Queen Victoria
Queen Victoria
Queen Victoria
Queen Victoria
Queen Victoria
Queen Victoria
Queen Victoria
Queen Victoria
Queen Victoria
Queen Victoria
Queen Victoria
Queen Victoria
Queen Victoria
Queen Victoria
Queen Victoria
Queen Victoria
Queen Victoria
King Edward VII
King Edward VII
King Edward VII
King George V
King George V
King George V
King George V
King George V
King George VI
King George VI
Queen Elizabeth II
Queen Elizabeth II
Queen Elizabeth II
Queen Elizabeth II
Queen Elizabeth II
Queen Elizabeth II
Queen Elizabeth II
Before sailing for war with France
Before sailing for war with France

After 'La Hogue' and 'Barfleur'



Visit of Peter the Great, Czar of Muscovy
First formal 'Royal Review'
Before France joined American War of lndependence:


After 'Glorious First of June'


To celebrate Treaty of Paris
First Coronation Review
Grand Naval Review
Visit of King of Saxony
Visit of King of France
Experimental Squadron
First Review of Steamships
Baltic Fleet before war
After return from Baltic
Visit of French Fleet
Visit of Sultan of Turkey and Viceroy of Egypt
Visit of Shah of Persia
Review of Reserve Squadron
Golden Jubilee Review
Visit of Kaiser Wilhelm II
Visit of French Fleet
Visit of M.P.'s and Li Hung Chang
Diamond Jubilee Review
Visit of German Squadron
Coronation Review
Visit of French Fleet
Review of Reconstituted Home Fleet
Review of Home and Atlantic Fleets
Coronation Review
Review for Houses of Parliament
Mobilisation Review
Royal Review
Silver Jubilee Review
Coronation Review
Inspection of 'D' Day anchorage
Coronation Review
Twentieth Anniversary of NATO
Silver Jubilee Review
---
The first Royal review of the fleet has been recorded as being held in 1415 when Henry V reviewed his ships prior to sailing to France which ended in the victory of Agincourt. Since then, 43 Royal naval reviews have taken place, the last being in 1977 to mark the Silver Jubilee of Elizabeth II.

Most of the reviews have been held at Spithead, the anchorage outside of Portsmouth Harbour in the channel known as the Solent. There have only been two reviews not held there: July 1919 at Southend to mark the naval victories of the Great War and in 1965 in Clyde where a partial review took place.

The largest review held was never advertised for it was a review of the D-Day invasion fleet in May 1944; 800 vessels were present ranging from capital vessels to small minesweeper and landing craft. Reasons for holding a review vary. Originally they were held when a mobilisation for war was carried out and secondly, to demonstrate the strength of the fleet to potential enemies. Examples of the first reason can be seen in 1415, 1853 (imminent war with Russia) and 1914, while examples for the second came in 1700 when Peter the Great visited Britain, the visit of the Russian Tzar and Kings of France and Prussia in 1844 and lastly the visit of Kaiser Wilhelm II and Admiral von Tirpitz in 1889.

The reign of Queen Victoria saw 17 Royal reviews of the fleet - the first being 1842 and the last in 1899. Her Diamond Jubilee review in 1897 and the review of 1899 were presided over by the Prince of Wales (later Edward VII) as the Queen was too frail to attend in person. Since the early part of the twentieth century, it has become customary to hold a review to mark the Coronation and Royal Jubilees of the reigning monarch. This custom ended in 2002 when it was decided not to hold one to mark Queen Elizabeth II's Golden Jubilee in that year due to cost.

The 20th Century has seen 12 Royal reviews, which are outlined below:
---
---
| | | |
| --- | --- | --- |
| | | DUNVEGAN CASTLE (1) was built in 1896 by Fairfield Ship Building & Engineering Co. at Govan with a tonnage of 5958grt, a length of 450ft 6in, a beam of 50ft 11in and a service speed of 15 knots. She entered service as a mail steamship and in 1900 had her yards removed. In 1901, together with the Scot, she carried members of both Houses of Parliament to King Edward VII's Spithead Review. |
---
1912 SPITHEAD CORONATION GEORGE V
---
---
This painting by Alma Claude Burlton Cull shows the fleet drawn up in parallel lines for the King and Queen to sail past in the Victoria and Albert II. In the centre the Neptune, flagship of Sir Francis Bridgeman, Commander-in-Chief Home Fleet, makes to signal. On the left are two foreign ships, the Russian Rossiya and the German Von der Tann. Buy a print
---
---
Coronation Review of the Fleet By HM King George V at Spithead on June 24th 19211

(See many more paintings and prints from maritime )
---
1977SPITHEAD REVIEW ELIZABETH II
---
---
---

Featured Hotel
Alverbank Country Hotel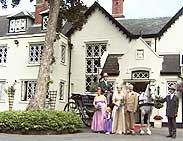 ● Without doubt one of Gosport's best hotels that successfully combines style and elegance with a very relaxed atmosphere.
---
---

Fun Facts
Fingernails grow four times faster than toenails-about two hundredths of an inch per week.

Dr. Samuel A. Mudd was the physician who set the leg of Lincoln's assassin John Wilkes Booth...and whose shame created the expression for ignominy, "His name is Mudd."

Playing cards were issued to British pilots in WWII. If captured, they could be soaked in water and unfolded to reveal a map for escape.

Your brain uses 10 times more oxygen than the rest of your body.
---