Site Map >
---
---
Around 1170, a prosperous Norman merchant named Jean De Gisors bought the manor of Buckland from the De Port family. He owned a fleet of ships, and decided that the Camber, a small inlet just inside Portsmouth harbour would be an ideal place to berth ships too large to make their way down to Portchester Castle, which had been favoured since Roman times.
Jean was obviously a planner, and the sites for buildings were probably marked out by his servants following a grid plan that can be clearly seen in Old Portsmouth, as it can in other medieval towns such as Salisbury. Jean started a market and attracted other merchants and artisans to join him in his new settlement. Within 15 years he had built a Church which occupied the site of the present Portsmouth Cathedral, and by 1194 the King had presented Portsmouth with it's town charter.
---
---
In John Taylor's book, The Honorable and Memorable (1636), he describes Hampshire as. "A goodly rich county, abounding in corn, wood, pasture, and much enriched with innumerable commodities from the sea". Southampton which by a grant of Henry VI. is a county by statute."...... a fair, sweet and pleasant town, ......... well, defended with walls". "......... it is rich in merchants and inhabitants". Describing Portsmouth, "it is a strong town and fortified, with a garrison; and it thrives better by war than by peace". Taylor's book informs us that within the shire there are eighteen market towns, two hundred and fifty-three parishes (divided into forty hundreds) of which the four locally are Alverstoke and Gosport, Titchfield, Portsdowne and Fareham. The Rowner parish forms part of the Titchfield hundred. John Taylor lists seventy-three Hampshire Wine Taverns.
The annual licence in 1625 to keep a Wine Tavern in East Retford, Nottingham was sixty Shillings. In James' I reign (1603-25) a license for an Alehouse cost its keeper annually one shilling and six pence paid to the Clerk of the Peace and one shilling to the Justice's Clerk. Known to be within Portsmouth in the year 1600 were the following Ale Houses, Inns, or Wine Taverns. Four of the five, grouped together south east of Little Penny Street near the pond, were The Rose, The Lion, The White Hart and The Dragon. On the south side of the High street, north towards the Town Gate, lay The Greyhound and in 1632 opposite the butcher's shambles in the High street lay The White Horse.
---
---
---

Featured Hotel
Alverbank Country Hotel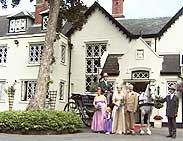 ● Without doubt one of Gosport's best hotels that successfully combines style and elegance with a very relaxed atmosphere.
---
---

Fun Facts
Very little recorded history exists relating to Portsmouth before the twelfth century, we know Bronze Age man inhabited the island as artefacts have been unearthed in the areas of St James' and St Mary's Hospitals in the Milton area of the city.

In about 300 AD the Romans started to build the shore fort at Portchester and Roman coins have been excavated from St George's road near the Hard, showing at the very least the Romans travelled across the island.

According to the 'Anglo-Saxon chronicle', in 501 AD Port and his two sons, Bieda & Maegla came to Britain with two ships in the place called "Portes Mutha", and killed a young, very noble British man. This is the first historical reference to a port or river mouth and the romantically minded could easily believe the origin of the name Portsmouth.

The Saxons continued to inhabit the area for the next 500+ years, fragments of Portchester ware dating from the late Saxon period have been found at Kingston Crescent in the north of the city and the Domesday book records three villages on the island in 1087
---