Site Map >
---
Useful Gosport links page
---
---
Gosport Stamp & Postcard Society meet at HEDCA Elson on the 2nd Tuesday in month at 7.30pm
---
---

Featured Hotel
Alverbank Country Hotel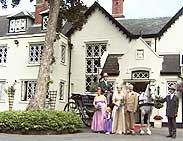 ● Without doubt one of Gosport's best hotels that successfully combines style and elegance with a very relaxed atmosphere.
---
---

Fun Facts
Two hundred million years of recorded geologic and biologic history of the Earth are found in the ocean's floor. By studying ocean sediments, scientists can learn about ancient climate, how it changed, and how to predict our own climate.

The ocean is a source of mineral deposits, including oil and gas. Most of its potential has not yet been tapped.

Over 90 percent of trade among countries is carried by ships. About half the communications between nations use underwater cables. Many nations' battles have been fought on or under the water. Knowing oceanography can enhance the conditions for trade, communications, and defence.
---