Site Map >
---
Places of interest in and around Gosport
Lee on the Solent
---
---
---

Featured Hotel
Alverbank Country Hotel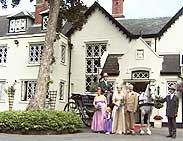 ● Without doubt one of Gosport's best hotels that successfully combines style and elegance with a very relaxed atmosphere.
---
---

Fun Facts
By volume, the ocean makes up 99 percent of the planet's living space -- the largest space in our universe known to be inhabited by living organisms.

The planet's deepest spot is the Mariana Trench in the Pacific floor, six miles deep. For comparison, Mt. Everest is five miles high! The average depth of the ocean is about two miles.

Earth's largest continuous mountain chain is the Mid-Ocean Ridge, stretching for 40,000 miles, rising above the surface of the water in a few places, such as Iceland.
---