Site Map >
---
Wildlife in and around Gosport - Birds
---
---
I am hoping that people will send in their pictures to show the diverse wildlife that both inhabits and visits us during the year.
---
To see hundreds of wildlife images from around gosport: https://www.flickr.com/photos/116107053@N04/
---
---

Featured Hotel
Alverbank Country Hotel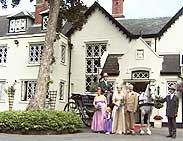 ● Without doubt one of Gosport's best hotels that successfully combines style and elegance with a very relaxed atmosphere.
---
---

Fun Facts
The original name for the butterfly was 'flutterby'!
---