Site Map >
---
Wildlife in and around Gosport - Animals
---
I am hoping that people will send in their pictures to show the diverse wildlife that both inhabits and visits us during the year, but you can alson join our Gosport's Nature Trail and post your pictures there
https://www.facebook.com/groups/1505132006378820/
---
---

Featured Hotel
Alverbank Country Hotel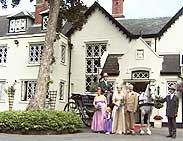 ● Without doubt one of Gosport's best hotels that successfully combines style and elegance with a very relaxed atmosphere.
---
---

Fun Facts
Gosport has several sites of Special Scientific Interest.
Much of the area of mudflats that comprise the extensive shoreline around Hardway are designated SSSI and are the habitat of a diversity of wildlife.
The lake at Stokes Bay Golf Club also has SSSI status.
---