Site Map >
---
Hovercraft History in Gosport and Lee on the Solent
---
| | | |
| --- | --- | --- |
| | | The hovercraft both in name and design was the brainchild of the inventor Sir Christopher Cockerell. He achieved a working example of a hovering vehicle on a cushion of air. The first working example of a Hovercraft shown in public in 1959 was called the Saunders Roe Number One, or SRN1 for short. The SRN1 however was not born without a lot of hard work and pain of Sir Christopher's part. He had a hard time convincing everyone that it was viable. He built a working model to show the principle and demonstrated this to many people before his concept was accepted and taken seriously. He lived to see his invention spread around the world in all sorts of guises, from one man craft to cross channel ferries carrying hundreds of passengers and cars. Even today when thoughts of mass transportation by hovercraft are long gone, hovercraft are used by police forces in Florida, ferries in China and in many hostile environments where conventional transport is still impractical. The only UK based daily service operates from Southsea to Ryde on the Isle of Wight by Hovertravel, who continue to manufacture and adapt hovercraft for work around the world. Hovercraft Museum |
---
---
The Hovercraft Museum is permanently based at the old HMS Daedelus site at Lee on the Solent, and hold regular open days for enthusiasts to view their extensive collection. On a personal note, we are proud to make the videos and DVD's that they sell all over the world.
---
---
Introduction
VIDEO Clip

See Gosport harbour on video
---

Featured Hotel
Alverbank Country Hotel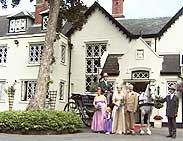 ● Without doubt one of Gosport's best hotels that successfully combines style and elegance with a very relaxed atmosphere.
---
---

Fun Facts
The name Gosport is said to have come either from God's Port or Gorse Port.
Gosport USA is in Indiana as well as New Hampshire
Gosport's Model Sailing Yacht Lake is one of only 2 in the UK for International events.
---