Site Map >
---
Gosport in Pictures - Falklands Gardens and Haslar Lake
---
To view a panorama around Gosport and Portsmouth Harbour click here
---
---
Alver Lake flows in from the harbour, with Haslar Marina on the left hand side of Haslar (or pneumonia) bridge as you cross it from the town. the other side has Haslar Hospital on one side and Gosport Park on the other, and ends at Alverstoke as Alver Creek
---
The Falklands Memorial Garden, originally reclaimed land from the harbour was opened by former Prime Minister Margaret Thatcher. The bust is that of Lord John Fieldhouse of Gosport - the most senior submariner in history, who Conducted the Falklands War from Northwood.
---
---
---
---
---
---
---

Featured Hotel
Alverbank Country Hotel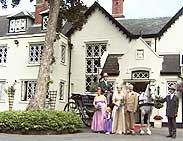 ● Without doubt one of Gosport's best hotels that successfully combines style and elegance with a very relaxed atmosphere.
---
---

Fun Facts
Only one person in two billion will live to be 116 or older.
The mask used by Michael Myers in the original "Halloween" was actually a Captain Kirk mask painted white.
If you put a raisin in a glass of champagne, it will keep floating to the top and sinking to the bottom.
Snails can sleep for 3 years without eating.
The fingerprints of koala bears are virtually indistinguishable from those of humans, so much so that they could be confused at a crime scene.
Months that begin on a Sunday will always have a "Friday the 13th."
---