Site Map >
---
---
Building Fort Brockhurst in the 1850's used up over thirteen million bricks, most of which were produced in Gosport and Fareham, resulting in many acres of excavated claypits.
It accommodated units of the British Army from the time of completion until after the second World War, when it was handed over to the Hampshire County Council and then to English Heritage.
---
---
I first encountered the fort when we moved to Findon Road, when I was twelve. Exploring the then acres of wild ground and forested areas, watching the wood pigeons high in the trees, and sometimes hearing the sounds of shotguns as hunters tried to bag them proved a magical place that has not left me since. One of my first girlfriends had a horse kept in the fields behind the fort and my first attempt at bareback riding had me thrown over the horse's head and into the long grass.
---
---
I had my first and only run-in with the constabulary at the fort. I was thirteen and thought I knew it all. I had been given an old hammer double barrel shotgun and had bought some cartridges. I had taken one of my mothers waist bands and sewn the cartridges in bandolier style across my chest and was heading for the fort when I was stopped by the law and taken back home. It turned out that the shotgun (I had inserted a nail as a substitute for a missing firing pin) was lethal and could have killed me. I was lucky to escape with a warning.
---
---
---
Almost every evening after school at Bay House Grammar my band of friends and I would escape to the fort to have a quiet smoke and lose ourselves in this wilderness so close to our homes. We met with several older boys who took shotguns over the fort, and in the year of the great freeze, when large carp could be seen entombed in the ice that covered the moat, we would fire cartridges into the ice to free them. ( I only once ever shot at a living thing, in fact things, for I shot at a tree full of starlings but missed them all)
---
---
---
---
When I started courting my future wife (I was thirteen, she was fifteen) we would take our dogs around the fort, watching the anglers who frequented the banks searching for pike, perch, rudd and carp. We would catch tadpoles which abounded close to the waters edge and carry them home to stock our pond
---
---
---
---
And as I took these pictures (June 2003 aged 54) all these thoughts came back to me, as I was once again a small boy overawed by the powerful pull that nature has always had over my life. The simple pleasures of observing and being a part of the magical mystery that is life.
---
---
On a more basic note, the fort is covered with litter, and although a lot of it comes from the 'Range' store opposite, empty coke cans and plastic bottles are testament to the awful way society is going in the way we are bringing up our next generation. We all need to be more aware of the effect our lack of respect for each other and our surroundings cannot go unchecked forever, and we will all have to bear the cost if we do nothing to stop the rot - Malcolm Dent
---
---
---

Featured Hotel
Alverbank Country Hotel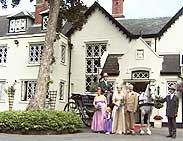 ● Without doubt one of Gosport's best hotels that successfully combines style and elegance with a very relaxed atmosphere.
---
---

Fun Facts
Thirty-five percent of the people who use personal ads for dating are already married.
The 3 most valuable brand names on earth: Marlboro, Coca-Cola, and Budweiser, in that order.
It's possible to lead a cow upstairs...but not downstairs.
Humans are the only primates that don't have pigment in the palms of their hands.
Ten percent of the Russian government's income comes from the sale of vodka.
---