Site Map >
---
---
---
Tucked away by the shore of Alver Lake is the beautiful grounds of Haslar Naval Cemetery, the final resting place of hundreds of servicemen, from the 1800's to the present day. Neatly set out in rows in month order these graves serve as a testament to the men who so gallantly gave their lives for England
---
---
It is only when you look at the ages of some of these young men that you realise just what a lucky generation we are that we have seen no real wars on the scale of years gone by, and hopefully a salutary lesson fro us all to learn that life is the ultimate gift.
The grounds are beautifully kept and are open to the public, a serene setting in a quiet backwater.
---
---
The cemetery within a cemetery:
There seem to be two versions as to why we have a Turkish cemetery within the Haslar Naval Cemetery
The first concerns a Turkish ship who's crew had a terrible disease, proving fatal too many of them, and as our allies at the time, were accorded British burial rites and interred at Haslar.
The second is that there was once a Turkish community in Gosport ( which is where we get our nickname of "Turk Town"). Unless you know differently?
Either way, the grounds at Haslar look tremendous and are well worth an hours visit.
---
---
---
---

Featured Hotel
Alverbank Country Hotel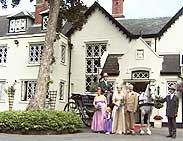 ● Without doubt one of Gosport's best hotels that successfully combines style and elegance with a very relaxed atmosphere.
---
---

Fun Facts
Ever hear of the "curse of the mummy's tomb"? If not, you can guess what it entrails. . .I mean, entails. If you're a B–horror movie buff, there's even a film by that name.

The mummy is sworn to protect its tomb and kill everyone who desecrates it. Well, believe it or not, some three or four tombs in Egypt have curses written in hieroglyphics on their exteriors. But the words were placed there simply to deter looters from robbing the graves in days of old. In fact, the actual translations of the curses are somewhat hilarious. The writings say things like, "Anyone who disturbs these tombs, I will ring his neck like a bird."
---