Site Map >
---
Activities and Sports in Gosport - FOOTBALL
If you would like to advertise your clubs activities here please email us
---
---
Gosport Borough Athletic Club was founded just two weeks after the D-Day landings in 1944 in an initiative to bring back organised football, athletics, swimming and cycling to the town after a break of several years. In their first season (1944/45), the football section of the Club won the Portsmouth and District League Division 1 under the guidance of former Southampton player, Stan Cribb.
The line-up at that time included Jimmy Scoular and Peter Harris who both went on to become full internationals.
---
For the second season, the Club were accepted into the Hampshire League and won the Division 1 title at their first attempt. This feat was not repeated for thirty-one seasons despite being a major force in Hampshire football during that period. After winning the Hampshire League title in successive seasons (1976/77 and 1977/78), Gosport was elected to the Southern Football League. In the team's first four seasons they never finished outside the top four and when the League was restructured for the start on the 1982/83 season, Gosport were placed in the Premier Division.
---
Two years later Borough lost their Premier Division status and was relegated to the Southern Division. However the next season saw the team bounce straight back after an incredible run of sixteen wins in the final nineteen matches.
In fact, Gosport needed to win the final match to be certain of promotion and in front of a home crowd in excess of 1,500 they demolished Salisbury 5-0. In the 1987/88 season the team were once again threatened with relegation. In fact until the April of that season Boro' had looked odds-on favourites for the drop.
However, run in the Hampshire Senior Cup that took the all the way to the Final at the Dell lifted the players spirits. A thrashing of the favourites Farnborough Town in the Final was followed by a good run of results in the League lifting the team out of trouble to remain in the Premier Division. The Club enjoyed their highest ever finish in the 1988/89 season when seventh place in the Premier Division was achieved.
---
---
---

Featured Hotel
Alverbank Country Hotel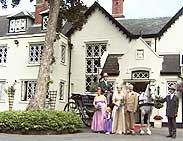 ● Without doubt one of Gosport's best hotels that successfully combines style and elegance with a very relaxed atmosphere.
---
---

Fun Facts
A very interesting fact!!
Brazil last won the world cup in 1994.
Before that they won it in 1970.
Add 1970 and 1994, it equals 3964.
Argentina last won the world cup in 1986.
Before that they won it in 1978.
Add 1978 and 1986, it equals 3964.
Germany last won in 1990.
Before that they won in 1974.
Add 1990 and 1974, it equals 3964.
So going by this logic, the winner of the 2002 world cup
is the same as the 3964 - 2002 == 1962 world cup.
The 1962 world cup was won by Brazil.
---