Site Map >
---
Activities and Sports in Gosport - Bowls
If you would like to advertise your clubs activities here please email us
---
Gosport Bowling Club
Anglesey Gardens, Anglesey Road
Gosport, Hampshire PO12 2DX
T: 02392510031

Bridgemary Bowling Club
Contact: M E Haine
Phone: 01329 234930
Address: 3 Beaulieu Place
GOSPORT
Hampshire
PO13 0QP
Description: Club affiliated to Hampshire Bowling Association & Portsmouth and District Bowling Association.
Availability: Cunningham Drive, Gosport Open all days - April- Sept normally from 2.00-9.30pm
Charges: Annual subscription £43.00
Restrictions: The club is private - with one rink available to the public
(subject to availability). Senior citizens/Youth section.
Access: Y (Wheelchair)
Fareham Bowling Club
Contact: Mrs Sheena Mack
Phone: 01329 849145
Address: 4 Meadowbank Road
FAREHAM
Hampshire
PO15 5LD
Description: Fareham Bowling Club has 150 members both men and women and is the only flat green bowling club in the town. The green is situated behind the Leisure Centre where there is adequate free
parking and there is provision at the green for visiting
players to play.
Availability: From the end of April to the end of September at the Green.
The Green is open daily from 12 noon until dusk
Charges: £35 subscription.
Restrictions: But visitors have to be introduced by a member to use the bar
facilities.
Access: Y (Wheelchair)
Facilities: Toilet facilities for disabled.
Lee on the Solent Bowling Club
Contact: Dr Roger Williams
Phone: 023 9255 1213
E-Mail: rogvalwilliams@beeb.net
Address: 5 Court Barn Close
LEE-ON-THE-SOLENT
Hampshire
PO13 9PD
Description: Outdoor bowling
Availability: Recreation Ground, Salisbury 2.00-8.00pm (April - September)
Charges: £50 membership Green fees for non-members £2.50
Access: Y (Wheelchair)
Facilities: Yes, but toilet access difficult
---
---

Featured Hotel
Alverbank Country Hotel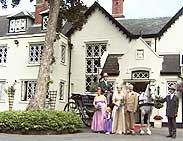 ● Without doubt one of Gosport's best hotels that successfully combines style and elegance with a very relaxed atmosphere.
---
---

Fun Facts
Bowls historians believe that the game developed from the Egyptians. One of their pastimes was to play skittles with round stones. The oldest Bowls green still played on is in Southampton, England where records show that the green has been in operation since 1299 A.D.
Certainly the most famous story in lawn bowls is with Sir Frances Drake and the Spanish Armada. On July 18, 1588, Drake was involved in a game at Plymouth Hoe when he was notified that the Spanish Armada were approaching. His immortalised response was that "We still have time to finish the game and to thrash the Spaniards, too." He then proceeded to finish the match which he lost before embarking on the fight with the Armada which he won.
---