Site Map >
---
Gosport Archive video section
If you would like further information about our films please email us
---
---
---
---

Featured Hotel
Alverbank Country Hotel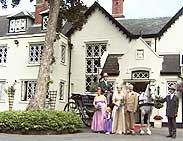 ● Without doubt one of Gosport's best hotels that successfully combines style and elegance with a very relaxed atmosphere.
---
---

Fun Facts
It was the accepted practice in Babylon 4,000 years ago that for a month after the wedding, the bride's father would supply his son-in-law with all the mead he could drink.
Mead is a honey beer and because their calendar was lunar based; this period was called the honey month or what was known today as the honeymoon.
---